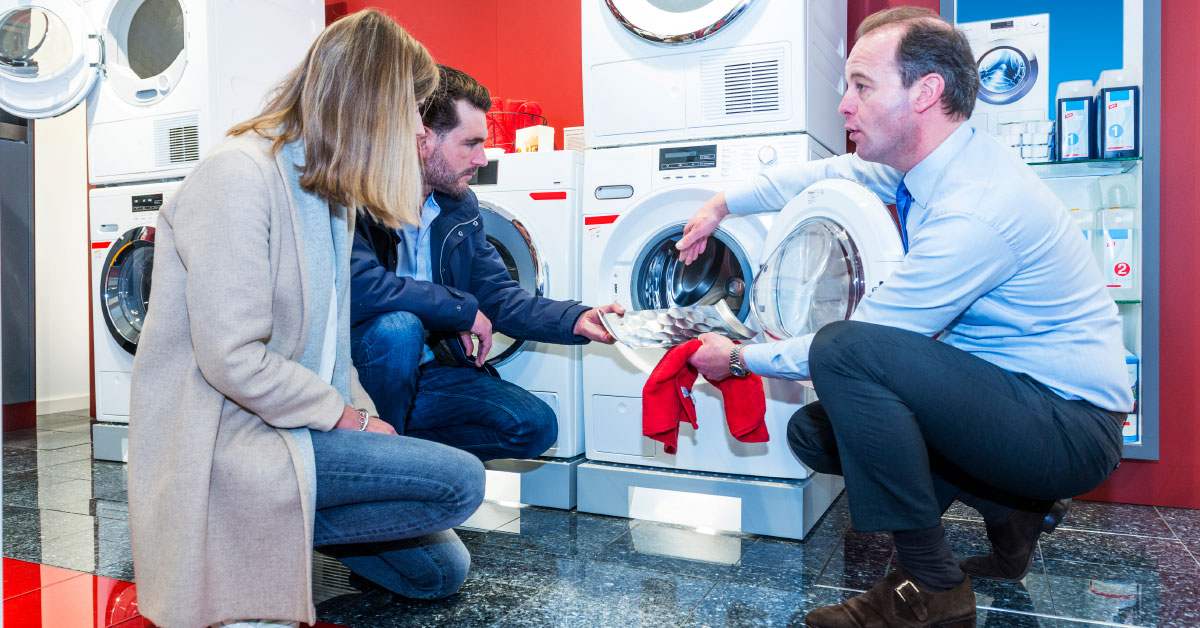 Shopping for a washing machine isn't as simple as it once was. Our parents had only one option – top loading and white. Today's washers come in a rainbow of colors, offer automatic product dispensers, multiple cycles and even steam cleaning. So before you start dreaming about adding a supersize washer (and companion dryer) to your house, measure your laundry room space (and your doorways), weigh your capacity needs against front- and top-load performance and efficiency trends. Again, carefully consider your family's needs and how you do laundry. Do you need delayed start cycles? Touch pad controls? Dispensers for fabric softener that you don't typically use? Extra features are nice but you will be paying more on the bottom line for each one. Be sure it is something that you will actually use. Think about your budget, too. And if you have more than $1,000 to spend on a washer, you might just be able to enjoy some of the new and innovative things we're seeing in the laundry market today.
All washing machines today perform the same basic function. That's why their control panels look similar. You'll always have a normal cycle and usually at least eight or nine more specialty cycles and a way to adjust temperature, spin and soil settings. Before you even head to the appliance store much less buy a washer, take some time to consider these points to find the right washer for your household's laundry needs.
There are three basic washer types:
High Efficiency Front-Load: HE front-load machines use less water and energy than top-loaders and usually offer more drum capacity so that larger loads can be washed. Front load washers feature automatic detergent, fabric softener and bleach dispensers.
High Efficiency Top-Load: HE top-load machines also use less water and energy than a standard top load machine. Since they have no centre agitator, there is more room in the wash basket for large items.
Standard Top-Load: Traditional machines are usually less expensive to purchase and still offer a wide range of sizes and features. However, standard washers use a much more water and have a higher operating cost per load (water costs) than high efficiency washers.
Merits of fully automated washing machines:
    

There is minimal human intervention. The machine automatically pours water for washing and rinsing, drying the clothes and the cycle is turned off automatically after completion.

    

These are equipped with the latest and most advanced washing machine technology.

    

Machines today come with Fuzzy logic and other multiple washing functions.
The traditional top loaders are more comfortable to load and cheaper to buy but front loaders are more energy efficient, use less water and offer better cleaning performance. LG and Samsung both make really good washers. Front loaders are good, but require routine cleaning to prevent mold from building up around the seal.  When choosing a new washer, be sure to ask questions to find the perfect one just for you.
Washing machine capacity is in kilograms and refers to the weight of the dry load that it can hold. Some washing machines have larger drums than others and most models range in size from 5 kg to 12 kg. The idea is to buy a drum size you won't struggle to fill. Drum capacity is a very important consideration for washing machines – the bigger the drum, the more you can wash. But bigger is not always better – the bigger the capacity, the more the washing machine will cost to buy and run.
Your choice of drum size depends on how many people live in your home. For single-person or couple households, look for a compact washer 5 to 6 kg. For a larger family of 4 people you may need an 8 – 9 kg drum. Drums with a 10-12kg capacity are best for very large households.
Most washing machines have big spin speeds, which range between 1000 to 1800 revolutions per minute (rpm). The higher spin speeds extract more water from the clothes, so drying times are reduced. Please note that higher spin speeds also tend to produce more creases too.
However, if you are not too keen on buying an expensive fully automatic washing machine. You can go for cost effective semi-automatic washing machines. You can use them even if you do not have a permanent water fixture. You can add water from Top using a bucket and they also use less electricity compared to fully automatic washing machines. If you check online sites, they show you hundreds of products, at least 10–12 of one single brand and then there are five or six brands that manufacture these machines.